I am
Deakin Valor (aka Alain Bloch)
from the
Golden Gate Temple
in the San Francisco Bay Area. I am also the leader of the Golden Gate Knights, a separate saber group in the Bay Area. I have been involved in lightsaber stage combat for the past three and a half years, having learned initially from the widely known
Matthew 'Novastar' Carauddo
, and then from others masters like
Christopher Villa
, an extremely experienced fightmaster who has instructed many well-known fightmasters such as Anthony Delongis.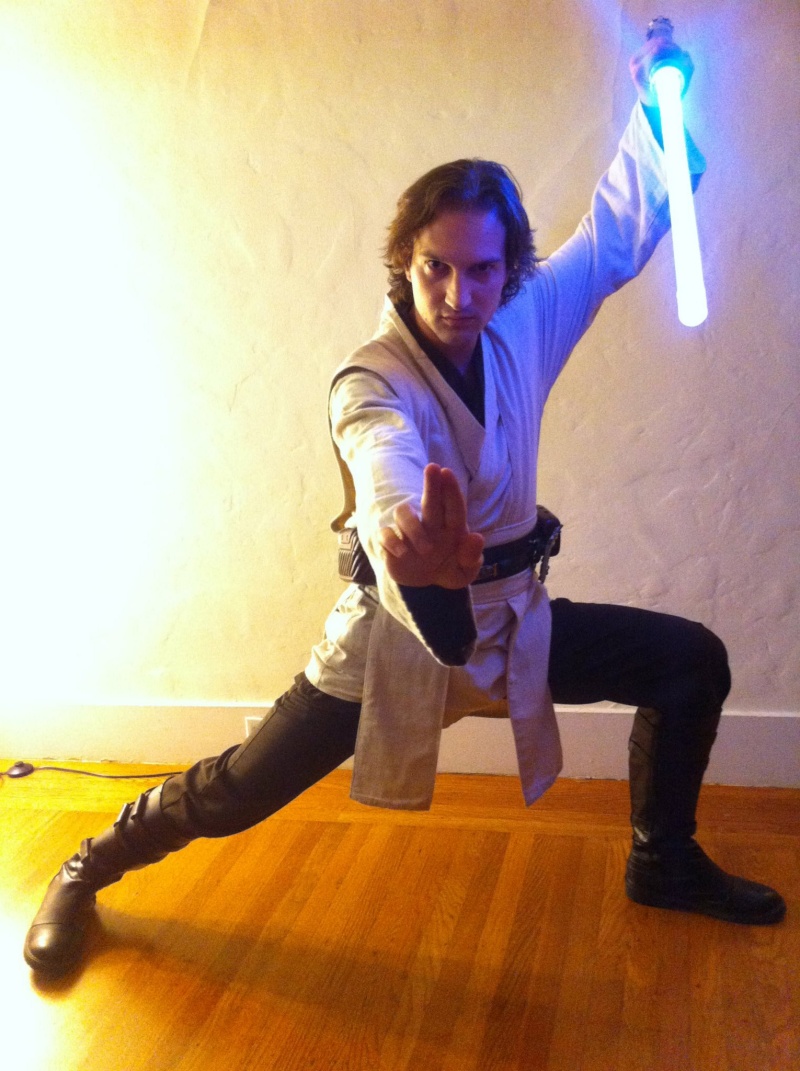 My character, Deakin Valor, is an up and coming Jedi Knight. The interesting aspect of him is that he
doesn't
have a high midichlorian count but he still is able to fight on par with some of the most 'powerful' Jedi and Sith. 
Deakin's story begins in a half-destroyed space cruiser after the sun of his planetary system mysteriously went super-nova. He was alone until rescued by Jedi Knights. He sought to become one of the heroes that found him - to become a Jedi.
He waited for days in front of the Jedi Temple with other potential younglings only to be turned away immediately. His midichlorian count was nearly non-existent. He was simply told, "The Force is not with you." But a Miraluka Jedi Master saw something special in this young man and announced:
"Midichlorians is only a small part on what it means to feel the Force.. and to be a Jedi. True understanding and strength comes from your spirit, your resolve, and determination. The true awakening of who you really are."
Taken as the padawan by the blind Jedi who also happened to be the Temple Battlemaster, Deakin has focused his studies on the seven forms of lightsaber combat. However, through experience he has come to favorite Form Zero; finding solutions without having to resort to violence.
Thanks for having me. I'm looking forward to performing alongside you all and spreading the joy that comes with Star Wars to the four corners of the galaxy! 
May the Force be with you!